It's time for the
2nd Annual Practical Magic Blog Party
created & hosted by the wonderful Anna of
Frosted Petunias
!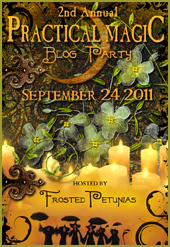 My sincerest apologies for getting this up rather late! The adventure that is post Hurricane Irene cleanup & repairs has been taking up too much time recently. (sigh) Things are a mess; I only started decorating for Autumn yesterday and I'm missing Halloween decorations!
Luckily my broom is always safe and sound by the front door so at least I don't have to wonder where it is. (Not that it hasn't been known to scamper off now and again - naughty broom).
I was afraid, quite honestly, that I wouldn't even get a post up sometime today! I kept hitting dead ends with every other one I tried. But, this morning I sat here at the computer and it flowed. Thankfully! I would have been so disappointed if I'd missed this, it was such fun last year!
As some may remember from last years party, while I like the movie, (and love that house!), I love the novel by
Alice Hoffman
! For those who haven't read it, here's a summary from
Goodreads
:
"The bestselling author of Second Nature, Illumination Night and Turtle Moon now offers her most fascinating and tantalizingly accomplished novel yet -- a winning tale that amply confirms Alice Hoffman's reputation not only as a genius of the vivid scene and unforgettable character but as one of America's most captivating storytellers.
When the beautiful and precocious sisters Sally and Gillian Owens are orphaned at a young age, they are taken to a small Massachusetts town to be raised by their eccentric aunts, who happen to dwell in the darkest, eeriest house in town. As they become more aware of their aunts' mysterious and sometimes frightening powers -- and as their own powers begin to surface -- the sisters grow determined to escape their strange upbringing by blending into "normal" society.
But both find that they cannot elude their magic-filled past. And when trouble strikes -- in the form of a menacing backyard ghost -- the sisters must not only reunite three generations of Owens women but embrace their magic as a gift -- and their key to a future of love and passion. Funny, haunting, and shamelessly romantic, Practical Magic is bewitching entertainment -- Alice Hoffman at her spectacular best."
Alice Hoffman's Here On Earth was my favorite of hers for many years until I read Practical Magic last Summer for the first time. Oddly enough, I've had that old paperback since 2002 but I never got around to reading it (and it somehow survived a nasty breakup along the way and a move from inland to the coast a couple of years after that). Normally an avid reader, last Summer I could barely pay attention to tv much less read anything and ended up only reading 2 books.
For those of you who don't know, last Summer (2010) during the July 4th weekend, I ended up in the hospital for a week, fairly close to death, because of a bacterial infection that had taken over in addition to an unrelated obstructed kidney stone which blocked my left kidney to the point it 'ballooned' and was 'sweating' toxic urine into my body. I was put in the 'adult cardiac critical care unit' because the high fever I had elevated my heartrate above 145 beats per minute and they were afraid I was going to have a heartattack. I had emergency kidney surgery during which a nephrostamy tube was insterted to drain the kidney, which I lived with for 3 months, and overall continued recovering at home both before & after the tube removal last October, well into this year, 2011.
At first I didn't have the energy to do much more than watch tv. I tried reading but I couldn't focus. Eventually I was able to knit just for the sake of knitting. I was so overwhelmed! After that I re-read A Year By The Sea by Joan Anderson, a memoir. (Which I highly recommend!)
Then, for some reason, I picked up Practical Magic. Once I did, I couldn't put it down until I was finished with it. I'm a sucker for just about any book that has such wonderful garden descriptions in it because not much gives me greater joy than my gardening, but it was more than that which kept me reading every given chance I could. Then again, we all know that gardens are magical places, even in the pages of a novel. Perhaps I fell under a spell...?
Speaking of spells, never try doing them while your hair is falling out in droves like mine was last Summer & Autumn! (Because of the illness, meds & anesthesia). Cleaning up after those pickles was a chore indeed! Anyhoo...
Then I discovered the Practical Magic Blog Party after I was finished reading the novel! (I've no idea how I came upon it - I have large memory gaps now, the result of that infection and the anesthia from the second surgery last October). It was just what I needed at the time! Something to get my creative juices flowing again. Something I had such
FUN
with. A pleasant distraction from all Id' been going through.
Before I let you leave and move on to the next party post, I'll share with you a couple of my favorite quotes from the novel:
"Still, she often dreams of the aunts' garden. In the farthest corner there was lemon verbena, lemon thyme, and lemon balm... Everything in the garden had a purpose, even the lush peonies, which protected against bad weather and motion sickness and have been known to ward off evil..."
"Always keep mint on your windowsill in August, to ensure the buzzing flies will stay outside, where they belong... Never presume August is a safe or reliable time of year. It is the season of reversals, when the birds no longer sing in the morning and the evernings are made up of equal parts golden light and black clouds..."
Thank you for dropping by friends! Hope to see you again next year!
If you'd like to see my PMBP post from last year, just click
here
.
And now, before I hop on my broom & fly off to visit all of you, I have to fuel up with a cuppa tea & maybe a brownie then take a quick walk through the garden. What? Oh yes, I do garden and have many things blooming as we speak. Yes, gardens are magical places indeed! Yes, that's rosemary by the gate. Yes, I have many roses & lavender, see? Over there, there, there and there. Hm? No, the lavender is inside, dyying on the mantle along with hydrangea blooms. We have to hurry now. Well, I need to clip some of the peony foliage to bring with me. Because it's raining here and I'm very prone to motion sickness, especially when I fly...
To have a peak at my own gardens, just click
here
.
(This is a partial shot of the cover of my paperback copy of Practical Magic).
An update; I've dropped by the house to refuel for a long night of blog hopping after what's been a delightfully fun day already! Welcome to
Pumpkin Manor
, where
Pumpkin Blessings
abound!